Please see below to go to the video of those you missed or wish to revisit. The series will resume in the Spring Quarter, 2012.
JAMES LENNOX - October 14, 2011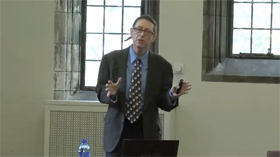 In this talk, James Lennox will discuss Darwin's rather curious strategy of showcasing all the potential problems with his theory of Natural Selection...
GREGORY RADICK - November 11, 2011

Gregory Radick (University of Leeds) will reflect on Darwin's reasoning on the plant and animal life he found on the Galápagos Islands...
The Debating Darwin workshops are a series of lectures given by the most acclaimed historians and philosophers of science. These workshops, headed by Robert J. Richards of the University of Chicago and Michael Ruse of Florida State University are co-sponsored by the Fishbein Center for History of Science, the Office of the President, and the Templeton Foundation.